Dr. Krista Lang Blackwood founded Octarium in 2003.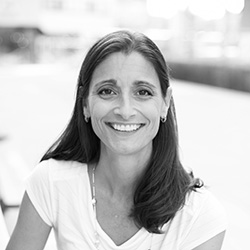 As the artistic director, Krista brought a diversity of education and experience to her conducting. Octarium's is more like chamber musicians than traditional choral singers. They exemplify the concept of "musical synergy," and singing with such combined artistry that phrasing, breath, nuance, and dynamics all happen spontaneously.
Before transitioning to her roles behind the scenes, Dr. Blackwood was a professional mezzo-soprano who toured internationally as a soloist and performed a wide range of musical genres from opera to musical theatre, choral music and oratorio.
Learn More
During a 25-year-career as a professional artist and arts administrator, Dr. Blackwood has built a reputation for her original approach to arts advocacy, her visionary programming and her high standard of professionalism. She was a regular guest and contributor to radio and television programs that cover and promote the arts. She has received national attention for her use of social media to keep the arts relevant in our digital culture.
As the Director of Cultural Arts for the Jewish Community Center of Kansas City, Dr. Blackwood demonstrates a collaborative approach to program-building, a high standard of quality and a cohesive vision for growth and expansion. Under her guidance, the White Theatre has increased its budget, grown its audience and raised its profile.
She graduated cum laude from Texas Christian University with a Bachelor's degree in Music Education. She earned a Master's degree in Voice, a Master's degree in Musicology and a Doctor of Musical Arts degree from the University of Kansas.
The freshest vocal sounds in American choral music.

Tytus Abrahamson
Seasons – '11-'16

Jay Van Blaricum
Seasons – '05-'16
Recordings – Hodie, Essentials, Modern Masters

Michael Coakley
Seasons – '03-'05
Recordings – Octarium

Andrea Coleman
Seasons – '08-'13
Recordings – Hodie, Essentials, Modern Masters

J. Seth Farrow
Seasons – '05-'07

Andrew Graves
Seasons – '03-'05
Recordings – Octarium

Leah Hamilton
Seasons – '03-'05, '09-'16
Recordings – Octarium, Essentials, Modern Masters

Megan Helm
Seasons – '05-'07

Kate Lohmann
Seasons – '03-'06, '11-'12
Recordings – Octarium

Shannon Marsh
Seasons – '05-'07

Jason Parr
Seasons – '07-'16
Recordings – Hodie, Essentials, Modern Masters

Jaime Tanner
Seasons – '07-'16
Recordings – Hodie

Brady Shepherd
Seasons – '03-'16
Recordings – Octarium, Hodie, Essentials, Modern Masters

Renee Stanley
Seasons – '03-'09
Recordings – Octarium, Hodie, Essentials, Modern Masters

Amy Waldron
Seasons – '10-'16

Benjamin Winters
Seasons – '03-'16
Recordings – Octarium, Hodie, Essentials, Modern Masters

Ashley Winters
Seasons – '03-'16
Recordings – Octarium, Hodie, Essentials, Modern Masters